On Saturday night, January 24, Powerhouse Wrestling will start off 2009 by giving their wrestling fans what they have craving for months; Powerhouse Wrestling will once again be taken to the extreme as Chris Setaro is pleased to present Powerhouse Wrestling's "Hardcore Hangover" at the Worcester Armory (701 Lincoln Street, Worcester, MA) on Saturday, January 24.
It was back on April 26 that Powerhouse Wrestling was taken to the extreme for the first time. It was a packed house of hardcore wrestling fans and at that event, fans saw Dawn Marie, Jason Knight, Justin Credible, Spike Dudley, Tammy "Sunny" Sytch and The Sandman. On January 24, the wrestling fans will be able to see another side of extreme.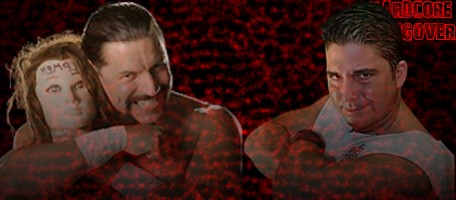 A man that help changed the face of hardcore wrestling, Al Snow, is set to debut in Powerhouse at Hardcore Hangover. For many years, Al Snow worked his wrestling skills to make a name for himself and finally after more than 10 years, Al Snow signed with the World Wrestling Federation in 1995. When Snow started, he competed under a mask as Avatar and did not get much of a fan following, and after a short time as Avatar, he was able to get a new character and lose the mask. This new character was Lief Cassidy. As Leif Cassidy, he was able to team with Marty Jannetty under the tag team name "The New And Improved Rockers" and for many months, the New Rockers attempted to make a name for themselves, however, the fans never got behind them.
The New Rockers was going for a throwback to the original Rockers tag team of Jannetty & Shawn Michaels, but in the mid-90's the characters seemed out-of-date, the team would split and Snow as Leif Cassidy would try his luck at a singles career. However, Leif Cassidy only ended up with bad luck. In 1998, Snow began wrestling in Extreme Championship Wrestling (ECW) and at first, his run was just a continuation of the bad luck he had in the WWF and began to fall apart in front of the fans. Al would talk to as well as yell at himself and then began to talk to a mannequin head. "Head" was the "manager" of Al Snow and Snow would do whatever "Head" wanted him to do. The crazed ECW fans began to get behind Al Snow, who would move up the ranks with "Head", and on May 3, 1998, at the biggest PPV in company history to date, Wrestlepalooza '98, would end up in a main event championship match squaring off against then-ECW World Heavyweight Champion "The Franchise" Shane Douglas, who ended up pinning Snow and Al returned to the World Wrestling Federation.

Upon his return to the World Wrestling Federation, Snow would take part in the Hardcore division and would eventually become a five-time WWF Hardcore Champion. Al would also win the European Championship and team up with Mankind (Mick Foley) to become the World Wrestling Federation Tag Team Champions. During his run, he was also the head trainer of the first three Tough Enough camps that aired on MTV. In 2003, Al Snow went on to be an announcer for Heat & RAW and as an announcer, he would be able to tour the country wrestling at local shows. When Vince McMahon announced the rebirth of ECW, Snow took his side as a member of the new ECW, however, was released from hos contract but stayed with Ohio Valley Wrestling (OVW) as head trainer.
After WWE cut their ties with OVW, Al Snow began wrestling all over North America. At TNA's December Pay Per View "Final Resolution", Snow came out to the six sided ring to distract Mick Foley, which ended up helping Kurt Angle win his match against Rhino. On Saturday, January 24, Al Snow will face off against Paul E. Normus, who will have the backing of the Men Of Business when he faces the hardcore great. Al Snow said he will introduce "Head" to any member of the M.O.B. that tries to get in his way at Hardcore Hangover.
Nunzio will be making his start with PHW on January 24, who began in ECW in 1996 as Little Guido, who began teaming up with JT Smith as a member of the Full Blooded Italians and throughout ECW history, have seen many members such as JT Smith, Tommy Rich, Tony Mamaluke, Tracy Smothers and others. However, Guido was a mainstay in every incarnation of The FBI as he and fellow member Tony Mamaluke won the ECW World Tag Team Championship from Mikey Whipwreck and Yoshihiro Tajiri. Little Guido was also another key player in ECW and along with a few others, was a real shoot-style wrestler. While many wrestling fans percieved that Extreme Championship Wrestling was nothing more than barbed wire, chairs and tables, with competitors like Guido, ECW had the finest group of pure wrestlers and was even given the nickname "The Sicilian Shooter." In 2002, after the closing of ECW, Little Guido became Nunzio in the WWE and acted as the cousin of Jamie Noble as the two had a short feud with Crash & Hardcore Holly.
After the short lived pairing of Noble & Nunzio, he reformed the Full Blooded Italians (FBI) on SmackDown! with Chuck Palumbo & Johnny Stamboli as the new FBI was an unstoppable force with a long list of victims including Chris Benoit, Los Guerreros (Chavo & Eddie Guerrero), Nathan Jones and Rikishi. At WrestleMania XX, Nunzio competed in a Cruiserweight Open which was won by then-Cruiserweight Champion Chavo Guerrero. In fall 2004, he began to compete on his own with his eye on the WWE Cruiserweight Championship, who would have five-star matches with Kidman, Funaki, Paul London, Spike Dudley and others as the cruiserweight division was starting to be the highlight of SmackDown!. On August 4, 2005, he defeated Paul London to win the WWE Cruiserweight Championship. He would eventually lose the title to Juventud (Guerrera) the following October, but regained the gold in November on a SmackDown! Live Event Tour in Italy where Nunzio is a legend. Nunzio would only hold the title for less then a month.

In spring 2006, Vince McMahon announced the rebirth of Extreme Championship Wrestling and once it was announced, Nunzio rejoined the ranks of the Extreme. Tony Mamaluke would also sign with the WWE and would join Nunzio to once again become the Full Blooded Italians. Nunzio would have a good start in the new ECW but within a few months, was put up matches that he would have no chance in, as the new ECW would be the home of monsters such as Big Daddy V, Kevin Thorn, Mark Henry and Snitsky; they all wanted to make their mark on the ECW original. Incidentally, most of the ECW originals were being run out of the company and on August 8, 2008, was released from World Wrestling Entertainment. Since his release, Little Guido has returned to the local wrestling scene taking on all comers and on January 24 it will be no different as he is set to face and a great Powerhouse Wrestling talent and former Heavyweight Champion, Jay Jaillet, who is a great pure wrestler and would like nothing better than to leave his mark on the hardcore original.
Savio Vega is set to return to Powerhouse Wrestling at Hardcore Hangover. Many people think of Savio Vega and they think, "How does this man fit into this hardcore theme?" Fans remember Vega from his run in the World Wrestling Federation when he joined forces with Razor Ramon, making it to the finals of the 1995 King Of The Ring tournament, from his days with the Nation Of Domination, or heading up his own group, known as Los Boriquas. But what many fans don't know, is the hardcore wrestling scene he has been in since returning to Puerto Rico, where the rulebook is thrown out the window. It is mayhem in the IWA, and in January 2008, at "Venom", Powerhouse Wrestling and especially, the Men of Business (MOB), found it out first hand as Savio Vega teamed with his cousin Don Vega against MOB members, PHW Heavyweight Champion Big Business & Gino Martino in a bloody Street Fight that ended with Savio & Don Vega getting the win.
The MOB has not forgotten and this time Jimmy "Jact" Cash will be taking on Savio Vega one on one in a Hardcore Match.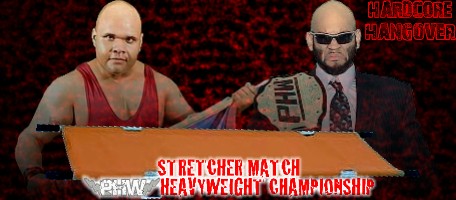 In the main event, Big Business will put the PHW Heavyweight Championship on the line against "The Punisher" Don Vega in a Stretcher Match. The rules of the match is to beat your opponent to the point that you can put him on a stretcher and push them to the locker room. Don Vega has been on a tear as of late in Powerhouse Wrestling and is hoping to become a two-time Heavyweight Champion.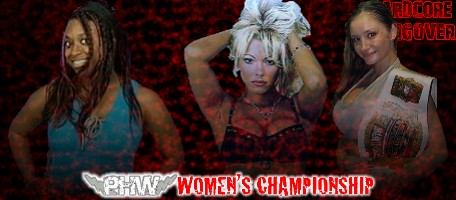 The Powerhouse Wrestling Women's Championship will be on the line when champion Sammi Lane makes her first title defense against challenger against Luscious Latasha. To make the match extra special, former WCW & ECW vixen Gorgeous George has been appointed the special guest referee. At WCW Spring Stampede 1999, Gorgeous George made her debut at the side of her then-boyfriend "Macho Man" Randy Savage and would feud with Ric Flair and then--WCW and current WWE referee Charles Robinson. She would act as Savage's manager and eventually lead him to the WCW World Heavyweight Championship. George would then leave WCW and head over to ECW and side with Tommy Dreamer against the Impact Players (Francine, Jason, Justin Credible and Lance Storm).
In a match that is being called the show-stealer, two longtime friends will face off in an encounter that will take Worcester to a new level as "Straight Edge" Brian Fury squares off against Mikaze. These two men have traveled up and down the roads together and on January 24, they will face off in a truly epic match, as these are two competitors that want to push each other to their absolute limits. Fury and Mikaze have a great deal of respect for each other but when the bell rings and the match gets going, the fans at the Worcester Armory will able to see if they can keep their composures during the match, or will the match pace and agression intensify?
In other matches, "The Rocket" Fred Curry, Jr. will face off with Kevin Landry and there will be a very special Tribute Ladder Match with Anthony Michaels & Mark Gore.
All this action and so much more will be seen on Saturday night, January 24 at the Worcester Armory (701 Lincoln Street, Worcester). Bell time will be at 7:00 PM, but come early as many of the wrestlers will be signing autographs at 6:00 PM when the doors open and will also be doing a Meet & Greet during intermission. For more information, check out the official Powerhouse Wrestling website at
http://powerhousene.tripod.com
. Tickets will be sold at the door and are on sale at all local FYE Music & Video locations.
***Card is subject to change without notice.***